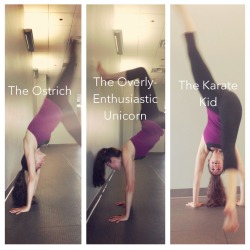 Having trouble kicking up into Handstand against the wall? You're not alone! Here are a few common misalignments that could be making it difficult for you:
The Ostrich:

Notice how my head is almost buried in the sand. I'm gazing into the center of the room, instead of forward at the baseboards of the wall. Instead, gaze forward to kick up.
The Overly-Enthusiastic Unicorn:

Look specifically at the sassy arch in my low back. Yowza! This causes me to lose connection to my core. Instead, draw the navel to the spine and knit the front ribs back into the body.
The Karate Kid:

Please, take note of these ninja side kicks. Notice now my hip is opening up to the side- it is externally rotated. Instead, keep the hip rotation neutral, and extend the leg straight behind you as you kick up.
For more handy tips, join me tomorrow from 1:30-3:30pm for my Foundations Inversion Workshop, Flip Your Perspective.
Click here to pre-register.