Liz Juchno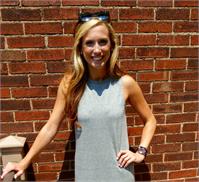 Liz was introduced to yoga in the past, but only found her yoga home until she stepped into Stray Dog Yoga Studio. Finding herself yearning for the mental and physical benefits of the practice, she began to devote herself daily to her yoga journey. Encouraged by kind and enlightening teachers, Liz completed her 200 hour teacher training program at Stray Dog Yoga Studio in October 2014. Since then, she has realized this is only the beginning of her yoga journey and continues to dedicate herself to her study and practice. Each time Liz steps onto her mat, she is filled with joy, love and happiness. Liz is excited to share her passion for yoga and encourages anyone who steps onto their mat to smile, find the warmth in their hearts, and a genuine feeling of wellness.
Liz Juchno instructs the following:
Learn the basics of vinyasa flow in our Level I classes, where skilled teachers provide careful instruction to guide students into foundational postures and breathing techniques. Vinyasa yoga links breath with movement to create a continuous, flowing practice. Level I classes prepare students for this powerful style of yoga by providing a safe space to fine-tune alignment, build confidence in postures and find comfort practicing in a heated studio. Students will cultivate strength and awareness and explore the connection between breath, body and mind.




Level 1-2 classes include targeted warmups, Sun Salutations and carefully sequenced standing postures followed by counter postures, cooling floor work and savasana. Experienced instructors provide plenty of modifications and intensifications so that students can leave feeling balanced and restored. Level 1-2 classes are accessible to beginner and intermediate practitioners. If you are new to vinyasa yoga, we recommend attending a Level 1 classes before Level 1-2 in order to get the most out of your experience. The studio is heated to 87-92 degrees for this class.